Get instant and interactive reporting
We will show you real-time information from various data sources in one common interactive enviroment.
Make decisions based on current data
Thanks to our Business Intelligence solution you don't have to rely merely on intuition in key moments.
Business Intelligence in Power BI
Forget spreadsheets in Excel and switch to a modern Power BI reporting.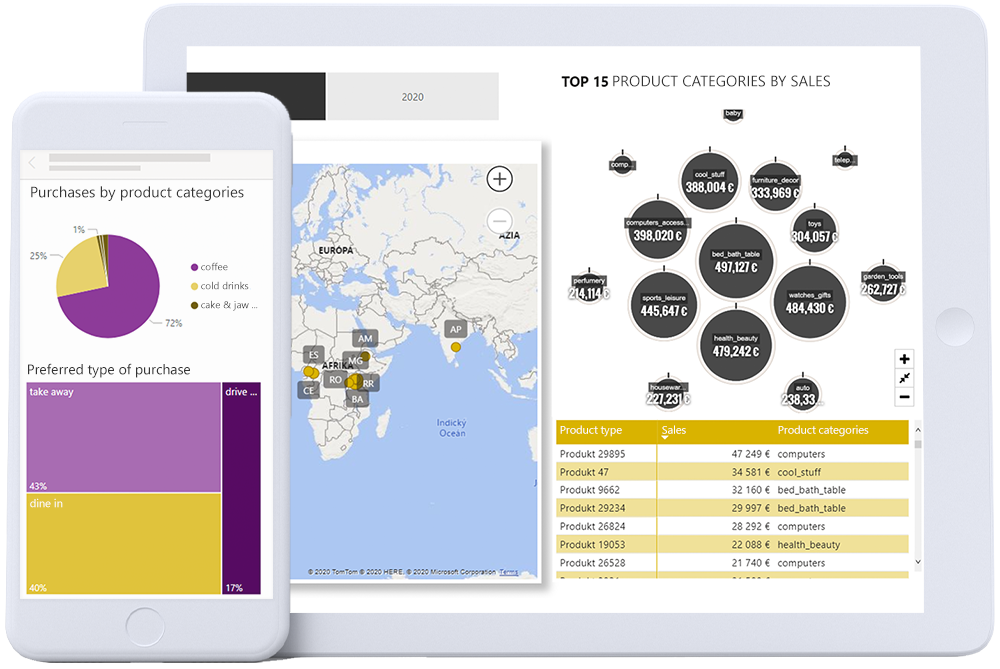 Sales dashboard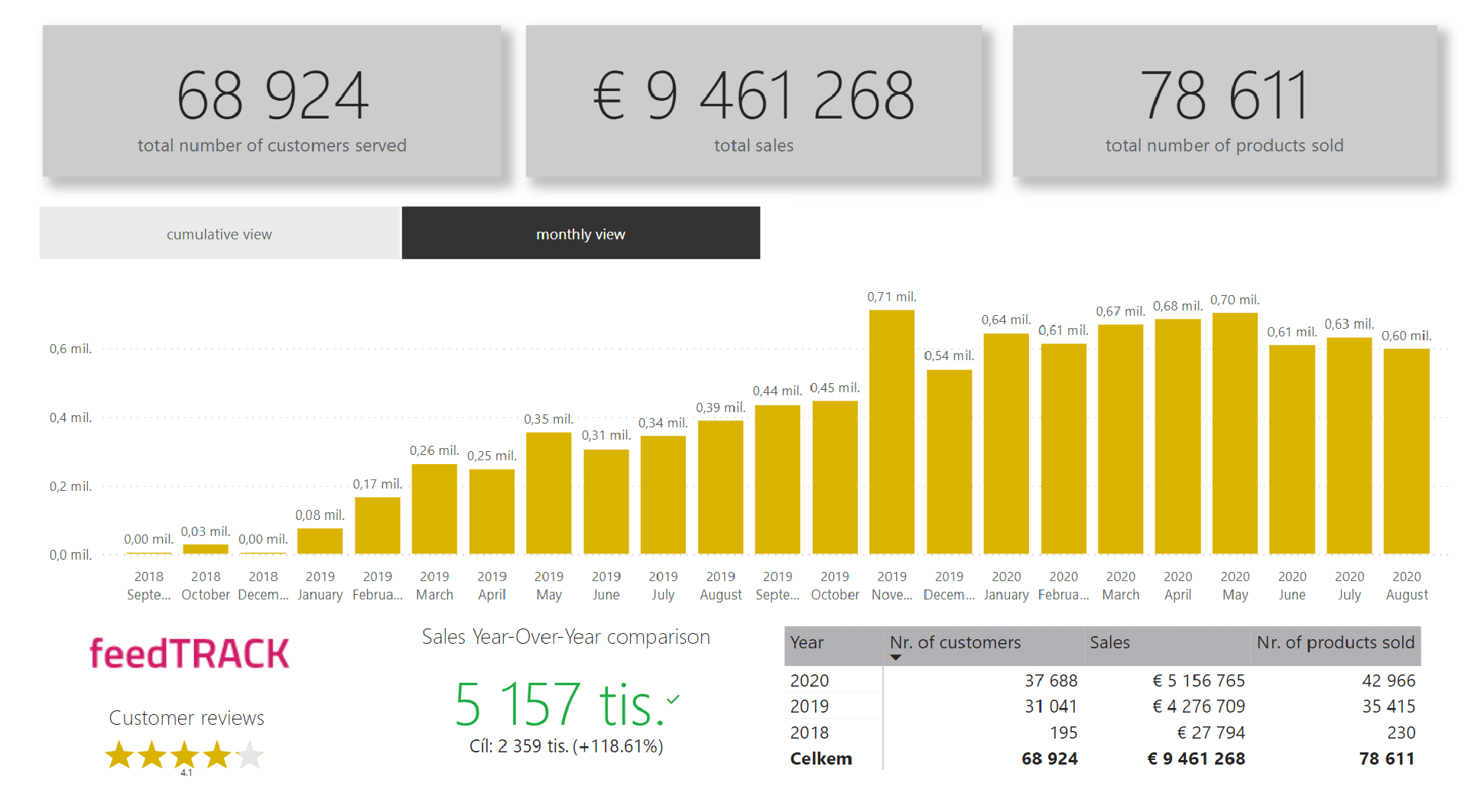 Manage your business easily and effectively
Current data on total sales visible in comparison with targets and in over time development. You watch the performance rate of your business units and the flow of the sales process in real time. Interconnect your business results with the customer service quality evaluation.
Customer dashboard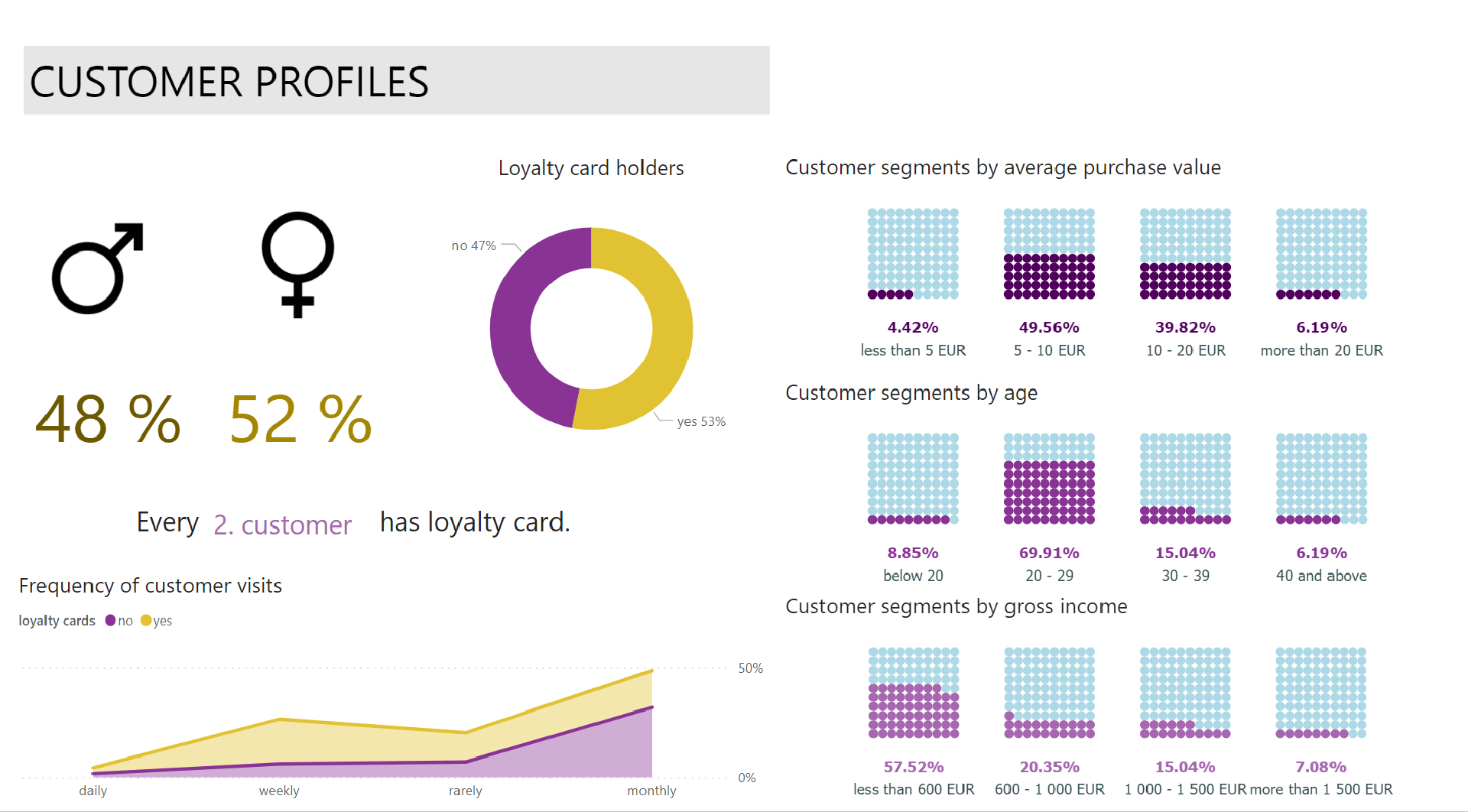 Everything about your customers visualized
Based on what do customers make decisions and are they satisfied with your services? Who are they and what are they buying? Which customers have the highest value for you? Interconnect your internal customer data with your survey results.
Cooperation model
1.

We will get to the bottom of which indicators are key for your decision-making process and we will design suitable reports.

2.

We will check what kind of data do you have available and where is it stored.

3.

We will design a way to inteconnect the data and transfer it to Power BI.

4.

We will create reports and set up automatic updating.

5.

We will set up access rights in accordance with your company's needs.

6.

We will make online reporting available to you and your colleagues.

7.

We will train your team to use Power BI.

8.

All done! Reports are online and updating on a daily basis.

9.

We will be at your disposal for any report adjustments.
Benefits
We have transformed our long-term experience with customer service into a unique tool based on state-of-the-art technologies. And we keep innovating.


We offer verified solutions

We are practical and draw from our own experience and practices.



We have long-term experience

We are long-term partners of companies of different sizes and from different industries. We grow together with them and inspire each other.



We get data

Every year we create hundreds of analyses and reports.


We are very well versed in IT matters

We rely on the support of an experienced team of our own IT specialists and developers who work with new technologies.



We are passionate innovators

We believe the only constant in life is change. We bring our clients the newest ideas from all areas of our business.



Your data is safe

Data security is at most importance for us. Our internal standards and work procedures comply with the norm ISO 27001 for data security.